Evaluating a ForeCast-An Experiment
09-20-2014, 10:24 AM
(This post was last modified: 09-22-2014 10:53 PM by Sherriann_P1.)
Evaluating a ForeCast-An Experiment
I'm not an official NDC ForeCaster, but when opportunity knocks....

Night of September 16/17, 2014
Freshly cleaned quartz crystals and a tarot card draw to assist with an intention to dream/receive a possible news headline for September 20.
This was the result of my intent:
http://www.nationaldreamcenter.com/dream...ted_Family
The interesting thing is what the Tarot card had to tell me. The Tarot card, VI of Suns for victory and triumph (Lost Tarot of Nostradamus) and shows an army of men on horseback headed East.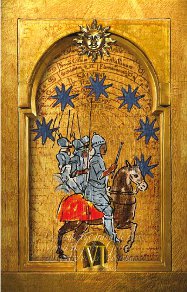 That brought to mind a dream I had on August 27/28 where I intended to have a dream about what the entire DreamBot run had to say. This is my journal entry:
crow, spending, warn, score, admiral, corrected, partners, epic, laser, club, planet, shall, island, Paul

Seriously, I did dream but I don't have a dream to post, really. I went to bed and went to sleep after reviewing the entire list of words several times. My brain was like a data processor all night long. *L* I don't remember a thing. As I was waking up, the last scene escaped and the word 'military' came to the front and right after, I heard dot-dot-dot-dash (...-); Morse Code for V. That's it...
At the time, everyone was busy dreaming about Dallas major headlines that may occur within the next six weeks from August 19 and which had landed a date of September 20/21.
Chris wrote: ...the date came when the intention shifted to "Biggest Headline." Therefore, I have a suspicion that the bigger event is still outstanding and that could be where the Sept 20/21 is indicating.
Stepping back, at the time, the theme was still Dallas and we were asked on August 27 to dream some more for a BIG headline for Dallas. That's when I had the above mentioned military dream.
The next day, Dean posted this dream:
http://www.nationaldreamcenter.com/dream...2448_chaos
Later that day, Chris posted the following instructions: ...A necessary iteration for the next incubation could be the WHERE component. If Dean is right, we seemingly have WHAT (chaos) and WHEN (Sep 20/21)...just need the WHERE. I recommend draining the mind of Dallas or any other location, and incubate WHERE is chaos on Sept 20/21, 2014?
The September 16/17 Tarot/dream combo resulted in an experiment with a headline which I found the guts to post to the DreamBase on September 17.
Headline: A full on military 'invasion" as in bombing/attacking occurs and/or is ramped up exponentially in E Syria/NW Iraq on September 20/21, 2014 that appears to be and is reported as a victory over ISIS.
The actual dream about the family seemed to indicate that we are protected over here in N.A. Nothing else.
The following day (September 18), France announced it was ready to launch Iraq air strikes at the request of the Iraq government:
http://www.bbc.com/news/world-europe-29255711
On September 19, two headlines stood out: -
French jets strike in Iraq, expanding U.S.-led campaign against Islamic State
Obama anti-IS coalition takes shape as France joins war
There has been nothing in the news since. Maybe there will be since it is only September 20 now where I live.
09-22-2014, 03:14 PM
(This post was last modified: 09-22-2014 03:15 PM by Sherriann_P1.)
RE: Evaluating a ForeCast-An Experiment
In yet another rather embarrassing event for The White House, just days after President Obama praised the French for helping in the fight against ISIS, and General Martin Dempsey noted "the French were our very first ally and they're with us again now," French officials have, according to Reuters, ruled out participation in airstrikes against Islamic State in Syria. With the fall of France (and Germany already saying "nein"), it appears the broad coalition is now a "coalition of none," as Obama has stated the US would not go it alone...
http://www.sott.net/article/286143-The-U...airstrikes
09-22-2014, 11:58 PM
Eagle1
NDC Elder


Posts: 427
Joined: Aug 2014
Reputation: 8
RE: Evaluating a ForeCast-An Experiment
If we wait for the rest of the script to unfold, you'll get that "victory" bullcrap, but that will improve the score. Also, Syria is but a tiny country, so I would treat that as more of a state level for scoring the where. And When isn't too bad off either. This one's going to be a fairly high score, and this thread will end up being pointless because it's all going to go in your trophy case

AND you'll be getting some more reputation points to boot!

09-23-2014, 10:20 AM
RE: Evaluating a ForeCast-An Experiment
I understand the script, Chris.

Israel played another piece of it last night.
I have a trophy case??? *L*
09-23-2014, 02:14 PM
Eagle1
NDC Elder


Posts: 427
Joined: Aug 2014
Reputation: 8
RE: Evaluating a ForeCast-An Experiment
User(s) browsing this thread: 2 Guest(s)