Thank you for your interest in this groundbreaking project. We very much need your help and we promise that it will not cost you very much time, especially considering that all your "work" will be done while you're sleeping!
_______________________________________________________________
T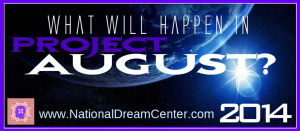 he procedures are very simple with only two steps:
1. After lying down but just before falling asleep (as the last thing in your head before falling asleep), repeat a phrase 5 times that expresses your desire to dream about big, news-worthy, global events that will happen in August 2014. Here are some examples:
– "I will dream about a major headline that will take place August 2014"
– "My dreams will show me the biggest news stories in August 2014"
– "I will dream about major events to take place in August 2014"
– "Dreams, please show me the biggest world events taking place in August 2014"
2. Upon waking, write the dream(s) down immediately. Log into the DreamBase, choose the category "Project August" and finish documenting your dream.
__________________________________________________________________

Registration. The only registration that is required for participation is to set up an account in the DreamBase with a valid email. Please continue reading for additional information.
Note: if you have any problems starting your database account, please contact us here.
__________________________________________________________________
FAQs
What the goal of the project?
The goal is to see how accurately a collective set of dreams can predict future, wide-scale events. Project August will be officially classified as an informal, public venture that seeks to achieve objective yet unofficial observations about the nature of precognitive dreams.
Who should consider participating?
Anyone who can set an intention and remember a dream. You need not be a precognitive dreamer to participate.
What kinds of dreams should participants document?
In short, all of them. If you went to sleep affirming to dream about August 2014, then please document the dream in our database, even if the material does not seem like earth-shattering, or even news-worthy material. However, if you failed or forgot to affirm the dream commitment prior to sleep, then please do not log that dream. The pre-sleep affirmation is the crux of the whole project.
 How do I write up my dream in the DreamBase.
Much of our dreams (sometimes to a 100% proportion) is very metaphoric, meaning that the dream object actually stood for something else. For example, if a dream character shows up named Sue, she might actually symbolize a court case of someone else getting sued. Here are the things we'll need in the dream report:
– Where the dream took place is important
– Describe the most prominent object and biggest event that happened
– Colors are important, any numbers, any names (try not to include full names, though… we do not want to embarrass real people. Just include the first or last or nickname that holds metaphoric value)
– Leave out sexually explicit material or profane words
– Please include whether or not you were lucid
____________________________________________________________
Quick Disclaimer:

1. The National Dream Center, as the moderator of all incoming dream material, maintains the inherent right to delete any post or portion of post for any reason without notice. They may also decide to not post any or all dreams until sometime after the project period.
2. When the participant inputs a dream story to the database, they agree to allow the National Dream Center to discuss their dream publicly on a public blog.
3. There is no limit to the amount of dreams that each participant may document.
NOTE: by participating, you agree to our full terms of use