Q & A about what you can expect with the upcoming Project August forecasts.
Q: What will be in the forecast?  Answer: Predictions for August, various snippets from the dreams, a linguistics analysis, summary of metaphors and other symbols, and some other proprietary trend analysis thrown into the mix.
Q: Who will be able to read this first forecast?   Answer: Only those who submitted a Proj Aug dream in the past two weeks. Note: If are having problems dreaming and still want to read the reports, simply send me an email…NationalDreamCenter@gmail.com
Q: Where do we go to see the Project August report?  Answer: A link to the report will be displayed in the header menu under Project August –> Reports/Predictions. However, the page will be password-protected. Those who submitted dreams will receive their password via email.
"Nothing like this has ever been accomplished at the collective level." Be a part of history…or rather, be a part of the future…send us a dream for Project August today!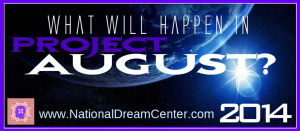 ---------- NDC Announcments -----------
Don't miss our daily DreamBot run which shows a brief status of the collective unconscious.
Copyright © 2014 Chris McCleary. Except for quotes, all rights reserved and any reference about this material requires a link back to this page.